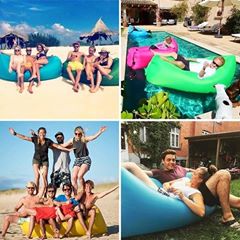 **BACK IN SINT MAARTEN** Inflatable Waterproof Lounge Chair
www.NaturalElementsSXM.com
***BACK IN SINT MAARTEN WITH 10 NEW COLORS***
We would like to welcome back the Inflatable Waterproof Lounge Chair.
Stop by their Maho Village location and check it out.
Price is $45 instead of $89 retail online.
(Don't forget about our store wide 10% OFF on all cash purchases!!!)
Ultra lightweight. Easily inflatable. Extremely comfortable. Just awesome. Relax in the park, on the beach. Anywhere, anytime!
The Inflatable Bed is a brand-new product and the lifestyle innovation of the season! It has been created to perfectly relax anywhere. The Inflatable Bed that fills air within seconds is super comfortable and can be described as a clever combination of an inflatable couch with the very simple filling-technique used on dry-bags. No external pump needed!
It can be inflated and deflated within seconds and stored in a small carrying-bag giving you the opportunity to carry your Inflatable Bed anywhere you want, allowing you more time to lounge on your Inflatable Bed.
This makes the Inflatable Bed a perfect product for all outdoor activities such as the beach, the pool/ocean, festivals, camping, barbecuing and travelling (even at the airport when you are waiting for your flight). Because of its durable, super-strong nylon fabric, it can be used under the harshest conditions such as in the mountains and even in the snow! This can only be achieved through a multi-stage development process focusing on material, technology, functionality and design as well as highest quality standards and environmental sustainability. Many might look at how easy this process is and think that because it is SO simple that there is no way the Inflatable Bed would stay inflated for an extended period of time. However, because this Inflatable Bed is made with an inner layer that is airtight and a clasping mechanism that will securely keep it closed, it will stay inflated long enough for users to even sleep on it overnight!